AnimatorPro Pinegrow Plugin. Create 'Code Free' animations and interactions with this Pinegrow Plugin! Many triggers and Custom animations are available through Pinegrow GUI. Build websites faster with Pinegrow Web Editor. Add, edit, clone and remove HTML elements and quickly build the layout of your webpage. What are plugins in Pinegrow? Our widget is an easy and effective tool for website optimization: collecting leads, providing client support, boosting sales, integrating the website with diverse social media, and more goals. Elfsight widgets allow completing different challenges of e-commerce sites. What makes our plugins for Pinegrow the best? Froont is a web app that runs in your browser - not a full desktop application. While the developer touts this as a 'feature', web apps cannot be as full-featured - nor as stable - as desktop apps (specially when dealing with projects that might be large, or complex). Focus - Pinegrow.
Purify for Pinegrow Plugin
The Pinegrow Web Editor is a powerful drag-and-drop tool for putting web pages and WordPress theme together quickly with ultra-clean code. This plugin "purifies" your CSS, removing unused rules. Have multiple stylesheets? No problem, this plugin can combined them into a single production-ready file. Want to minify your CSS, no problem, this plugin can do it! A ton of unorganized media queries? This plugin can organize them. Note:
This plugin requires at least Pinegrow 5.97
Reduce framework bloat, right from Pinegrow!
This plugin adds a pwerful new tool to Pinegrow to eliminate CSS bloat. Whether your content comes from PHP files, HTML, templates, or even Javascript, this plugin can scan it.
Pinegrow 5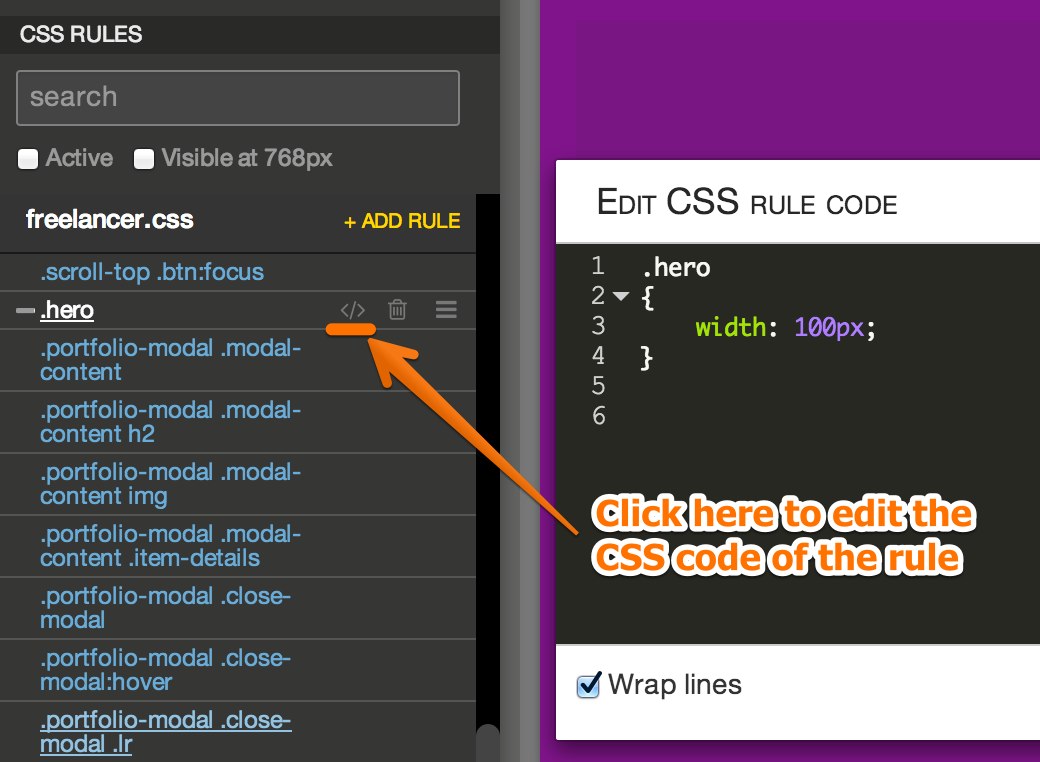 Minify your CSS easily!
Pinegrow Php
In addition to eliminating unused rule sets, you can elect to have your CSS minified.
Plugin code acts as a valuable learning tool
We have tried to make the plugin code readable and well-commented to serve as a learning resource.
License Details
The purchase of this plugin entitles you to use of this plugin for life on as many sites as you wish! This license also grants free updates that will be limited to changes required for continued functionality as Pinegrow updates. This license does not grant the right to include this plugin in any product distributed either for free or a fee.
Note: This plugin requires at least Pinegrow 5.97
Contact Info
Location: CT, USA
Disclaimer - The products offered on this site are not affiliated with Pinegrow, Divi by Elegant Themes, or Oxygen. They are soley offered and maintained by Springhill Design.
Misc.
Refund Policy
Terms and Conditions
Privacy Policy
Support
Support Notes:
This plugin depends on the open source 3rd party framework, UIkit, developed by Yootheme. Any bugs or issues with the core functionality of the UIkit theme will not be the responsibility of Springhill Design.
Likewise, any usability issues for the UIkit framework will not be the responsibility of Springhill Design. Only issues with the implementation of the UIkit framework in the context of Pinegrow will be addressed in updates. Neverless, if you are having problem with achieving a particular design that should be possible using the UIkit framework, reach out on Facebook or through a support ticket!
Cuckoo clock,wall clock,hand made,clock,wood,natural wall clock, modern cuckoo clock,wooden clock,bird house,kuckucksuhr,fathers day gift CuckooclockByHanzade 5 out of 5 stars (80) $ 210.00 FREE shipping Add to Favorites Quick view Modern cuckoo clock, original from Germany.
Restaurants near Kuckucksuhr: (0.03 mi) HANS IM GLUECK Burgergrill & Bar (0.04 mi) Little Italy (0.10 mi) Scotch n Soda (0.12 mi) Ente (0.11 mi) Webers Wikinger; View all restaurants near Kuckucksuhr.
Pinegrow Alternatives
Any minor updates of the UIkit framework will be incorporated into the plugin within a short-time period (typically several business days). Any major update to the framework will be incorporated as quickly as possible (typically within two weeks). It is possible that future updates of the UIkit framework will make integration with Pinegrow impossible. In this case, the plugin will be updated to maintain compatibility with Pinegrow updates, but no further UIkit framework updates will be made.
Pinegrow App
Updates to the plugin that are the result of minor updates to Pinegrow that alter plugin functionality will be accomplished in a relatively short time frame (typically several business days). Major updates to Pinegrow that alter plugin functionality will be addressed as quickly as possible (typically within two weeks).