Lightwright is NOT Compatible With Vectorworks Project Sharing
John McKernon Software (JMS) and Lightwright LLC own all intellectual property in Lightwright, which is licensed, not sold. This license grants you a non-exclusive license to Lightwright, which permits you to copy, download, install, use, and otherwise benefit from the functionality of the software. The best online source for Lightwright Software. Free lighting advice and many items ship free! Call us at (904) 683-5553.
Lightwright 5 and 6 work great with Vectorworks 2016 and later, except for Vectorworks' new Project Sharing feature. It is unlikely that Data Exchange will ever work with Project Sharing, but we're going to make an effort to get it going.
Kevin Barry (B'way production electrician) put together an online forum for Lightwright users to help each other, show each other labels, and puzzle out shortcuts and other ways of using Lightwright. Forum membership is free, and signing up is easy and secure. To join, point your web browser at http://lightwright.boards.net/
This release supports the new infrastructure at Lightwright LLC. There is a 64-bit Windows version, and a Universal build for macOS. The Universal build can be used on Macs with either the traditional i86 chip, or the new Apple Silicon M1 chip.
A 64-bit build of Beamwright is now available for both MacOS and Windows. It is pretty much the same as the now-discontinued Beamwright 5, but has high-res graphics and is compatible with modern operating systems.
Lightwright
Available here
On November 17, 2020, John McKernon and Sam Molitoriss announced the formation of Lightwright LLC, a new home for future Lightwright development, support, and sales. It is a partnership betwen John and Sam, who will share the work of supporting and developing Lightwright.
Since the first sale of ALD in 1984, Lightwright's reach has expanded every year, but it also meant that running the business as a one-man operation has become more and more difficult for me.
My goal is to keep Lightwright supported and growing long after I retire. This new partnership will sell directly to theaters, venues, designers, and electricians in all areas of entertainment, including concert, film, television, theatre, and special events. Sam Molitoriss, a recent graduate of CMU, has strong roots in lighting combined with a keen focus on training, software development, and business organization, and I look forward to the expertise he brings to the company in our move of Lightwright into the future.
As Lightwright's horizons have expanded and our online lives became more fluid, it became clear that it was time to change the way we connect to customers, too. The last day of Lightwright license sales through City Theatrical was December 31, 2020. Beginning January 4, 2021, all Lightwright sales are direct to the customer through Lightwright LLC's new sales and support portal at www.lightwright.com.
IMPORTANT NOTICE
For all Lightwright downloads, technical support, and sales, please go to https://www.lightwright.com.
My career as a lighting designer has mostly faded away, except for serving as the associate lighting designer on the current Broadway and touring productions of Chicago.
Check out the Designs topic at the top of this page for my bio and photos of some of my best work.
Lightwright 6 Tutorial
I am available for master classes, keynote speeches, panel discussions, and similar events.Things 3.
Automated Import and Export to Lightwright
The lighting instruments and parameters specified in the Vectorworks Spotlight product can be automatically sent to Lightwright versions 5 and later to perform paperwork processing. Any changes to the data in Lightwright automatically update the light plot. Once configured (and once the Vectorworks file has been saved), these updates occur seamlessly in both applications.
For versions of Lightwright earlier than 5, see the documentation for that version of Lightwright.
To specify automatic data transfer between the Vectorworks Spotlight product and Lightwright: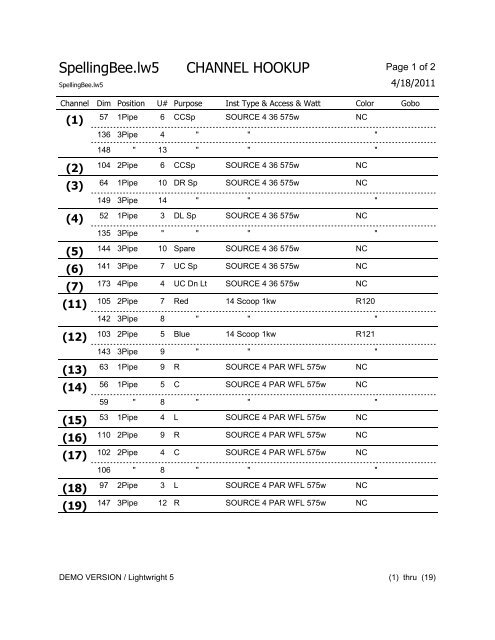 Select File > Document Settings > Spotlight Preferences.

The Spotlight Preferences dialog box opens. Click the Lightwright tab.

Parameter

Description

Use automatic Lightwright Data Exchange

Enables the automatic exchange of data between the Vectorworks Spotlight product and Lightwright; deselect to suspend or stop the data exchange

Perform a complete export on exit

Exports the Spotlight data, replacing all the data in Lightwright the next time Lightwright is used. This should occur whenever field export changes have occurred; therefore, when changes have been made, the field appears dimmed and cannot be deselected.

Include Inventory

Select to include inventory data in the data transfer. An updated instrument types inventory list, which is controlled by the Lighting Inventory Setup command, is sent to Lightwright when the Lightwright data exchange performs a complete export and when lighting inventory is updated (see Lighting Inventory Setup and Inventory Reports).

Only instruments types with a count of one or more are sent to Lightwright.

Inventory updates from Lightwright are processed with the other instrument data. Instrument summaries are updated automatically if Show Counts and Compare to Inventory are selected in the Instrument Summary Settings dialog box for the placed objects.

File Path

Specifies the location of the exchange file. The file is in .xml format, and it is named according to the Vectorworks file.

Same location as the file

Saves the exchange file with the Vectorworks file

A custom location

Saves the exchange file in a specific location; click Choose to set the location

Available Fields

Lists field names from the Vectorworks file that are available to export to Lightwright, but have not been selected for export

Move >

Moves the selected Vectorworks file field to the Export Fields list for export to Lightwright

< Move

Removes field names from the Export Fields list, returning them to the Available Fields list, where they are not included for export

Export Fields

Lists field names that will be exported to Lightwright

Reset Defaults

Restores the fields to the lists specified as a default when Save as default was last clicked

Save as default

Saves the current lists as the default mapping to be restored by Reset Defaults; the default settings saved include those on the Lighting Device and Universe tab

Click Use automatic Lightwright Data Exchange to enable automatic data transfer between the Vectorworks Spotlight product and Lightwright, and indicate the location for saving the transfer file.

Move fields to be exported from the Available Fields list to the Export Fields list. All parameters in the Export Fields list are exported to Lightwright.

Click Save as default to save the current status of the lists for new Vectorworks files. When enabling data exchange, click Reset Defaults to use the default lists.

Click OK to close the dialog box and export the instrument and accessory information from the Vectorworks file to the exchange file.
As instruments are added, deleted, and changed in the Vectorworks Spotlight product, the edits appear in Lightwright. Similarly, edits made in Lightwright apply automatically to the Vectorworks file. Instrument data are updated when the file focus switches from the Vectorworks file to Lightwright, or Lightwright to the Vectorworks file.
Lights added in Lightwright are placed between existing lights on a lighting position upon import, based on the unit number of the new light. If no adjacent lights can be determined, the light is placed at the center of the lighting position.
In the Vectorworks file, an import worksheet is automatically created, listing instruments that have been added from Lightwright as well as instruments that did not have a Lightwright equivalent and should possibly be deleted from the Vectorworks file.
Lightwright 5
Right-click (Windows) or Ctrl-click (Macintosh) on a database row of the import worksheet, and choose Select Item to select and display the associated instrument.
Lightwright Student
~~~~~~~~~~~~~~~~~~~~~~~~~