I use a range of software both in my professional work and running my websites. This page outlines the primary tools that I use on a regular basis.
Jack Klinck is the Managing Partner at Hyperplane Venture Capital. Read his Investor Profile to learn more about his history with the firm and which tech sectors he finds the most interesting in Boston. Hyper Plan combines the simplicity of sticking colored notes to the wall with the flexibility of software Layout cards in rows and columns by any pair of properties. Switch 'views' with a mouse click. Represent card properties using your choice of colors, symbols and text.
andrewcanion.com
The site is hosted by Fastmail. I developed the static pages using RapidWeaver.
My blog is hosted on micro.blog. This encompasses both'twitter style' micro blogs and lengthier articles, which I have broken down into another page.
I use iA Writer to draft my blog posts, which I write using Markdown. If I add hand-drawn graphics, these are done with Linea.
I use MarsEdit to assist with publishing and managing past posts.
Podcast
My podcast is hosted by micro.blog and indexed by the major podcast indexers. I use Audio Hijack to record and Ferrite to edit on my iPad.
I use a Røde PodcasterUSB microphone. I also own an Audio Technica ATR-2100x.
canion.me
Posts are written with the same toolset as above.
The site is hosted by Blot, which can create a site from a Dropbox folder or synchronisation via Git. I have adopted Git in an attempt to remove my need for Dropbox.
I use Git with Sourcetree on my iMac and Working Copy on iOS.
Professional Work
I am always re-evaluating my work methods and toolset, but this list reflects the priority software of the moment.
macOS Only
Curio for creating interactive and flexible thought boards. I'm still quite new to this software, but it is winning me over.
BusyCal for checking calendars.
HyperPlan for creating quick and flexible post-it note style whiteboards, but with the flexibility of software.
macOS & iOS
OmniOutliner for creating agendas and taking notes. It's a bid fiddly to use, but I still like it, and have trended back towards this after preferring iThoughts for some time.
DEVONthink Pro for Mac and DEVONthink to Go for iOS to capture and archive randoms information that may prove useful in the future, and allowing me to later summon that information at will, making me look smart. I've given up on Bear in favour of using DEVONthink for note-taking as well.
OmniFocus for managing every single element of my working (and personal) life. Without this app, I'd be lost.
NotePlan for simple daily to-dos and day logging/journaling. It's combination of Markdown and reminders is fascinatingly simple.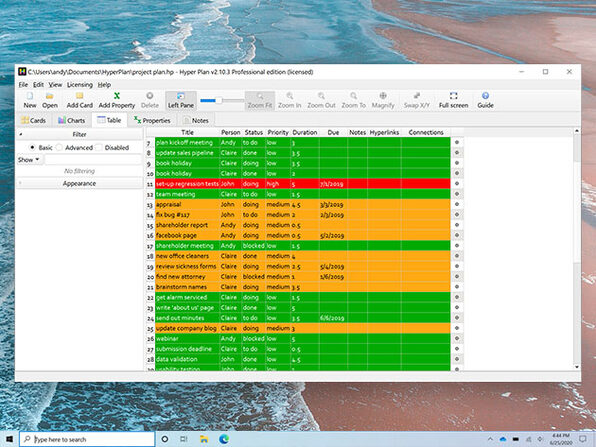 iOS Only
Harmonizely allows clients to book time with me, and is the best (only?) service that works with Fastmail CalDAV calendars.
GoodNotes is the app I use to markup documents with my Apple Pencil.
Hardware
Apple iMac 27″, 2019 is new on the block. I got one without a Fusion drive, opting instead for complete SSD storage. It's a beautiful screen to use, and easily fast enough for my needs.
Connected to the iMac is an OWC ThunderBay RAID array for additional storage, and additional noise.
Hyperplan Produit Scalaire
iPad Pro 10.5", which I love to use. It's just a joy, and I wish I could use it for every element of my work.
iPhone XR; I am happy with this phone personal computer.
iPhone SE; with a new employer comes a new phone, now I'm living the multi-phone lifestyle having also kept the XR.
Hyperplan Pro 2
Apple Watch Series 1. This does typical Apple Watch stuff like notifications, calendar alerts and fitness tracking. I have some apps installed but rarely use them. This device keeps on keeping on. The technology is now old, but the battery is surviving and it does what I need (except for swim tracking).