Pamela for Skype offers many usefull features to control and customize your Skype - record calls, manage chat histories, do not miss birthday dates and many other features. Free Skype Call Recording. IFree Skype Recorder is a powerful and easy-to-use tool for recording Skype calls. You can free use it to record any Skype calls' audio streams. It has the following advantages: - It's FREE with no limits attached. Automatic or manual Skype recording capabilities. Easy to be used in recording any type Skype calls's audio streams.
Release History


1.2.0.32 Dec 21th, 2016

1.2.0.26 May 1th, 2016

1.2.0.25 Dec 23th, 2014

1.2.0.24 Jun 9th, 2014

1.2.0.23 Oct 29th, 2013
Bug fixes for group video calls

1.2.0.22 Oct 14th, 2013
Bug fixes for latest Skype 6.9

1.2.0.21 July 4th, 2013
Support 16:9 224P, 16:9 360P, 16:9 480P, 16:9 720P video recording

1.2.0.20 June 27, 2013
Fix the can not stop recording issue with some webcam. Skype 6.5 support

1.2.0.18 Apr 3, 2013

1.2.0.17 Febrary 23, 2013

1.2.0.13 June 26, 2012

1.2.0.12 June 9, 2012

1.2.0.11 April 12, 2012

1.2.0.10 March 16, 2012
Some bugs fixed for Skype 5.8

1.2.0.9 February 08, 2012
Support Added For:

Skype 5.8.0.154 (February 03, 2012)

1.2.0.8 December 19, 2011
Support Added For:

Skype 5.7.0.123 (December 7, 2011)

Save as MP3 file

1.2.0.4 January 14, 2011
Support Added For:

Skype 5.1.0.104 (January 6, 2011)

1.2.0.3 November 03, 2010
Skype 5.0.0.152 (October 14, 2010)

MSN Live Messenger (2011 version)

Skype 5.0's 10-way group video call, allowing all 10 video streams to be saved into the same image.

1.2.0.2June 03, 2010
Options Added For:

Side-by-Side Layout, allowing local images to be placed on the left or right of the remote image.

Picture-in-Picture Layout, allowing the remote image to contain the local image inset.

Local Image Size, offering the choice between these image sizes:
Local Image Position, allowing users to place the local image, where ever they choose on the screen:

Bottom Right

Bottom Left

Top Right

Top Left

Output Video Resolution, with the options of:
320 x 240

480 x 360

640 x 480

960 x 720
Output Video Frame Rate, allowing either:

Audio-Recording Mode, giving users the choice between recording only the microphone (what you speak), only the speaker (what you hear), or both of them together.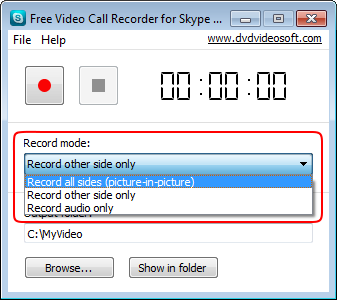 1.2.0.1March 25, 2010
Picture-in-Picture, saving both the local and remote videos together, in one file.

Side-by-Side, allowing Skype video conferences to be saved, literally side-by-side. This option is ideal for users who are not familiar, or knowledgeable about video editing.

Support for Skype 4.2.0.152 (February 25, 2010)

Ability to Start Recording Automatically

Ability to Start SuperTintin Automatically
The Clock Drift issue, allowing long recordings to feature multiple audio and video streams

1.1.24.0300October 05, 2009
Audio level auto-balance, allowing both you and all other remote participants of the video call can be recorded at a consistent volume, without 'sound dipping'.

New Installer, boasting a better look and feel, making it easier to useTagpad.

Some UI improvements
Multiple audio sample rate in same video conference

1.1.21.0700July 12, 2009
Skype 4.1.0.136 (July 10, 2009)

Local Video Recording for MSN Webcam Recorder

1.1.6.0400July 05, 2009
Skype 4.1.0.136 (June 30, 2009)
Main Window Re-size button

Improved About dialog

1.1.5.0032March 08, 2009
SuperTintin Webcam Recorder

1.1.4.2100October 05, 2008
The inaccurate recording time issue

1.1.4.1903May 05, 2008
Skype 3.8.0.115 (April 29, 2008)

1.1.4.1402February 18, 2008
Side-by-side feature for Skype video conferences, allowing videos to be saved side-by-side. This feature is ideal for anyone who doesn't have the time and/or knowledge to edit the videos themselves. It's also an ideal way of saving money on expensive video editing software.

1.0.0.9409November 25, 2007
Call Recorder For Skype Mac Free
Skype 3.6.0.216 (November 15, 2007)
Local Audio drift bug

Audio / Video sync issue

Audio Echo issue

1.0.0.8030September 18, 2007
Ability to select and remove multiple recordings
Call Recorder For Skype For Mac
Button to change which local folder recordings are saved to

Button to open the folder that recordings are saved to

1.0.0.7001March 23, 2007
Skype 3.0

Skype DRM license

Vista
Broken AVI issue

Memory Leak issue
Skype Recorder App

1.0.0.1003November 03, 2006
Call Recorder For Skype Pc
First Skype Video Call Recorder

SuperTintin Skype Call Recorder is capable of capturing original video streams from Instant Messaging (IM) / Video Call service Skype, allowing users to save them to file.

Despite the fact the SuperTintin uses 'Screen Capture' technology; the final recording will not suffer any type of data-loss.