Explore the Sales Command Center and learn how to create transactions and use the Sales Register. Lots of great tips and tricks to help you get started.
An introduction to the latest update to AccountEdge Basic. If you are coming from a manual checkbook or spreadsheet, AccountEdge Basic would be an excellent.
AccountEdge offers a 30 day free trial so you can try their full desktop software risk free and see if their system suits you.
Unlike most of the other account software companies in the industry, AccountEdge allows you to purchase their entire platform in one lump sum. No subscriptions, no monthly fees.
You can also connect with a number of third party apps or widgets including Shopify, Checkout, Custom Reports and TimeSolv Solutions.
Along with their platform, you can also add additional services like payroll, checks and forms printing and credit card processing.
They offer both desktop and web-browser based options so you can access your account any way you like.
They offer all the bells and whistles you'd expect with other subscription based companies like Xero and QuickBooks so you can sync bank accounts, send invoices, keep track of inventory, and manage contacts.
In the last year, they've rolled out a new and improved version of their AccountEdge Pro software with new features like UPS Shipping Integration.
AccountEdge Basic is geared toward small businesses, while AccountEdge Pro is designed for small to large-sized businesses. The software is ideal for businesses looking for numerous features, strong accounting, and locally-installed software that can still be accessed on the web. Explore AccountEdge Basic's Banking Command Center and learn how to record transactions.
Unfortunately, a number of their features act as add-ons that you have to pay additional fees to access.
If you'd like to collaboration with other employees or your accountant, you'll end up paying considerably more.
Xero has a number of impressive capabilities, and their cloud-based software is extremely easy to use. Read Review
As we mentioned earlier, one of the big differences between AccountEdge and their competitors is that you pay one fee upfront, and have access to the platform for as long as you like. And if you'd like to upgrade to newer versions of the software or use some of their premiums services, those options are available to you as well.
AccountEdge offers two different packages: AccountEdge Basic & AccountEdge Pro. Each start at a flat fee, but that fee can change depending on a few key details. In 2017, they launched the newest version of their software, so they've listed the pricing for upgrading as well as new setups.
AccountEdge Basic = $79-$99
What It Includes: AccountEdge Basic includes a number of sought-after features including invoices, bank integration, customer/contact management, and reporting. You can also add on additional features like payroll and credit card processing for an additional monthly fee.
Who It's Right For: We recommend AccountEdge Basic to smaller operations or freelancers. You still have all the necessary capabilities like invoice and expense tracking, without a hefty price tag.
AccountEdge Pro = $159-399
What It Includes: AccountEdge Pro takes the best of AccountEdge Basic and adds in a bunch more fantastic features. In their most recent upgrade, they've added some surprising and unique features like UPS shipping integration, email templates and more, on top of their already robust software.
Who It's Right For: We recommend AccountEdge Pro for larger businesses because they offer so many features, along with multi-user capabilities for $249. They offer inventory tools and sales management so you can keep an eye on all aspects of your bustling business.
Optional Features
Payroll: AccountEdge offers a number of different payroll options depending on your needs. There are three available price points, which include:
They also offer additional add-ons on top of their payroll features like direct deposit and payroll forms. If you're interested in their full service payroll for your business, these add-ons are included with the payroll package.
Credit Card Processing: AccountEdge Pro allows you to manage credit card processing with their merchant accounts. You can choose which merchant account plan works best for you, and they'll include useful features like discount rates for Visa or MasterCard payments, statements, and will soon be added optional card readers as well.
AccountEdge Connect: This last add-on offers you the best of both worlds. Along with AccountEdge's desktop platform, with Connect, you'll also have access to their web-platform. It allows you to keep track of transactions and payments from any device, as long as you have a steady internet connection.
In addition, they also include web pay in this add-on, so you can send and receive money through their platform. You can try AccountEdge Connect free for 30 days, and after, choose your package based on the number of users you'd like to have access to this web-platform.
Recommended Package
Though it's not the most cost-effective option available, we'd recommend their AccountEdge Pro package with multi-user capabilities. Because this particular package is so robust, it's capable of growing with your business and handling just about anything you can throw at it.
AccountEdge was started in 2005, so they've developed quite a bit in a relatively short amount of time. Because of this, they don't yet have the overwhelming amount of reviews that decades old companies like QuickBooks have gathered.
We were able to locate a few telling reviews through Trust Radius and FitSmallBusiness. We've listed the basics of the facts and figures below.
Customer Reviews Section Last Updated: 7-22-17
TrustRadius: 6.4/10 out of 25 Reviews
FitSmallBusiness: 3/5 out of 10 Reviews
Looking at those reviews more closely, reviewers loved how many reporting options were available, as well as the easy-to-use design of their mobile companion app. Customers would love to see a larger focus on customer support and usability in the future.
We've done hundreds of hours worth of research comparing companies and available features in order to provide you with accurate information. One of the best ways we've found is to compare these companies to others in the industry.
So we've set off to compare the pricing scale, features, customer support, and business history that AccountEdge has gathered against one of our personal favorites: Xero.
Pricing: While we applaud AccountEdge for changing things up, Xero still ends up being the more cost-effective version for most entrepreneurs. That is, unless you're not planning on upgrading for quite some time or have minimal need for multiple users or complex capabilities.
It costs the average new user between $99-$399 but without payroll or credit card processing, most would probably choose to upgrade in the future. That adds monthly charges of $15 and $25 (per employee), which on their own is more than Xero's standard package, which does include payroll for 5 people and credit card processing along with the entire suite of services that they have to offer.
Features: Cost aside, AccountEdge does offer some unique and robust features, that would be suitable for a larger business. But while the features are available, they can be confusing, according to some of the customer reviews that we ran into.
Xero has been praised for it's modern, intuitive design that makes it easy for users to adapt to the platform. AccountEdge has made strides towards this goal as well, but Xero still takes the cake in our book.
Customer Support: Both companies offer live chat, phone, and email support, so you have plenty of contact options at your disposal. That being said, we've seen a few customer reviews that indicated difficulty getting adequate support from AccountEdge.
We reached out to them via email and chat, and while it did take a day or two for us to get a response, overall we had a positive experience with their customer support.
Businesses Served So Far: Both AccountEdge and Xero were started a little over 10 years ago, and since then have grown considerably. AccountEdge has served over 100,000 customers, and while it isn't yet at Xero's level of one million, they're moving onward and upward every day.
Here's a Quick Breakdown
Pricing Starts at $9/month
Perfect if you: Need an affordable, comprehensive & flexible accounting software
Pricing Starts at $79 - $99
Perfect if you: Want to pay upfront and have it integrate with almost everything
From what we've seen, reports are a mixed on this topic. Many of the customer reviews that we read praise the software's easy-to-use set up, but there are a few out there that have said the opposite. Everyone is a little different, and their approach suits different people. They do offer set up guides that help you to make the transition to their software and have a customer support staff in place if you have any case specific questions.
None of their fees are necessary 'hidden' but there are things to watch out for. We spent a considerable amount of time trying to sort out their pricing structure, which in the end can vary considerably depending on the features you need. While you do pay a single flat fee for their software, they do have smaller, monthly charges for things like payroll, web-browser access, credit cards and other add-ons, so we highly recommend you consider the features that you need before selecting a accounting software service.
All sensitive information is handled with care and protected with an encryption software called Secure Socket Layer or SSL. They also utilize NetSuite to manage customer relations to secure customer-related information. Prism video converter for mac.
In our book, we'd give AccountEdge a 3.9/5 stars and recommend it most for larger startups that need a more large scale, robust and tailor-made approach to online accounting. They offer a number of impressive and unique features, and allow you to select the packages & add-ons that apply to your business. That being said, if this doesn't sound like you perfect fit, click the link below to be taken to our Top 7 Accounting Software comparison. Cheers!
At a Glance
Expert's Rating
Pros
Online store options
Excellent income and expense tracking
Credit card processing
True double-entry accounting
Cons
Requires basics of double-entry accounting
No time tracking and billing
Our Verdict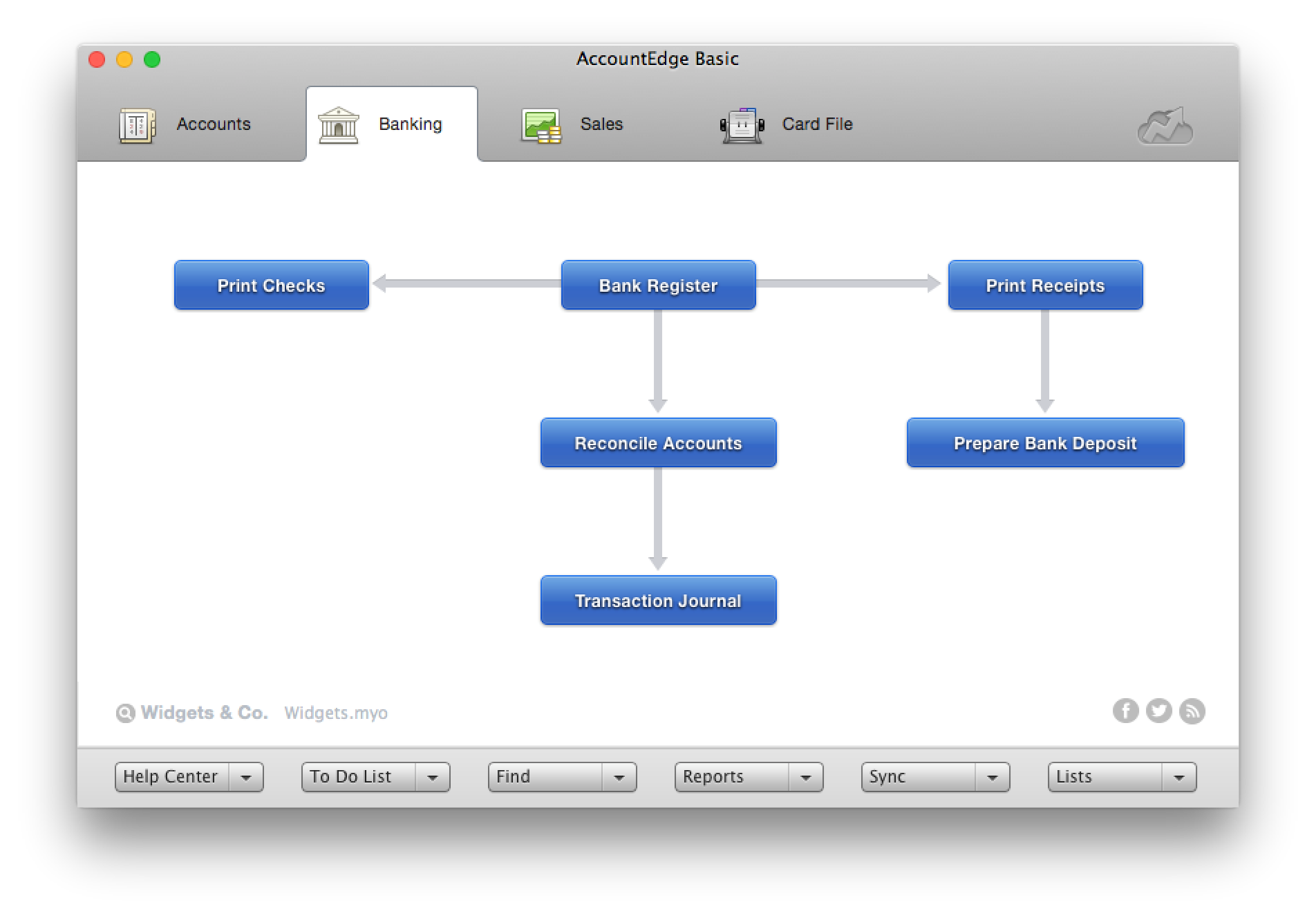 Managing financial information is, by far, my least favorite part of being in business for myself. Don't get me wrong, I like the money, but time tracking, invoicing, bill collection, monthly statements, and expenses—all a necessary part of the business process—require far more attention than I want to give. Which is why it's important for me to have the kind of financial business tools that make painful processes less painful—or ideally, painless.
Acclivity's entry-level AccountEdge Basic (Mac App Store link), which replaces the company's FirstEdge application, is a great tool for managing your business' financial information, providing everything you and your accountant need to track your cash flow and keep tabs on your business' financial health. As an entry-level business accounting application, AccountEdge Basic has a lot to offer, although it is missing features necessary for its niche.
All of Acclivitiy's accounting products have a stripped-down feel that can, when compared to other business accounting applications, initially seem intimidating. AccountEdge's flowchart interface has seen very little change for more than a decade, which makes it feel familiar, but it may also feel a bit dated. That said, it works. And we've all seen apps where so-called "UI innovation" has done more to hurt rather than enhance an application.
At its heart, AccountEdge Basic is a true double-entry accounting system, which may keep your accountant happy. You'll need at least a rudimentary understanding of basic double-entry accounting terms to avoid any confusion. This isn't to say that you need to be a CPA, but you will want to understand the differences between asset, liability, income, and expense accounts, and you'll need to know this as soon as you start setting the program up. To that end Acclivity offers several useful documents, videos, and support options to help you get started. Once you get through the initial setup and gain an initial understanding of what you're doing with the application and why, AccountEdge Basic allows you to effortlessly create invoices and track your income and expenses.
AccountEdge Basic offers several new features and enhancements, the first of which is a binary that allows you to run the application on systems running Lion and Mountain Lion. There is also an easy upgrade path to the Pro version of AccountEdge, so if your business grows in ways that require the Pro features—say, for example, simultaneous multi-user access to your company file—you can do that with ease. AccountEdge Basic can process credit card transactions, and you can also tie it to and import data from an Enstore online Web store). You also have access to AccountEdge's OfficeLink feature, a tool that allows you to take financial and customer data from AccountEdge and export it into a special set of Microsoft Excel and Word documents.
Accountedge Software
AccountEdge Basic also lets you sync data with the AccountEdge iOS apps when used in conjunction with a Dropbox account. Otherwise, most of the other improvements are minor tweaks to things that are under the covers, such as field sizes for email messages and notes, and better automatic matching of imported transaction data from your bank.
AccountEdge Basic has one major missing feature that significantly limits its usefulness and reveals a basic misunderstanding of the kinds of users who may need an accounting application such as AccountEdge Basic: Time tracking and billing. There are many small business users, myself included, who require a way to easily track the time they spend on a project and then quickly turn that tracked time into an invoice. AccountEdge Basic doesn't offer anything like this. For that you'll need AccountEdge Pro, which comes with a premium price tag and includes a host of features unnecessary for the majority of smaller businesses.
Bottom line
Accountedge Accounting Software
AccountEdge Basic is an excellent business accounting application that offers true, hassle-free double-entry accounting. An easy upgrade path to AccountEdge Pro means that your accounting application can grow as your business does, but missing time tracking and billing options make it a non-starter for the kinds of businesses that may need this application most.